I figured I'd do some experimenting with the brain wave programs on the M1 while measuring my brain waves with a muse S EEG sensor. To start with, I did a 10 minute test with the Alpha program (i chose Alpha because that seems to be the easiest brainwave range to affect).
So, while sitting in a chair, with eyes open at all times, and not doing anything (not trying to meditate, or deep breathe, and also not trying to do anything mentally active), I measured my brainwaves for just under 10 minutes. the first five minutes to get a baseline, and then at exactly 5 minutes in, I turned on the M1 on Alpha/10, coils just above both temples.
Here's the graphs of the results:
First, Alpha waves, since that's what the M1 was set to: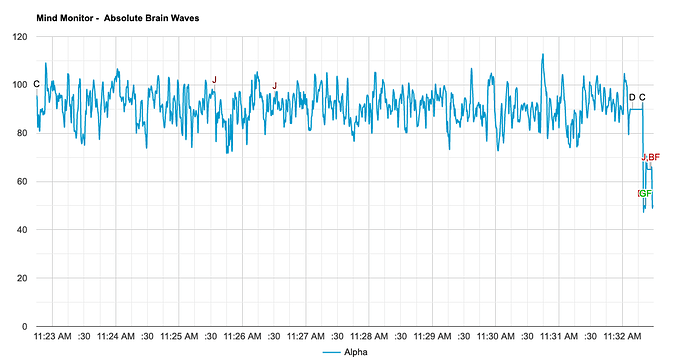 Notice that at 5 minutes in, (11.28am), nothing really happens.
the graph for Delta and Theta was just as unremarkable, so not posting it here.
Then we have Beta: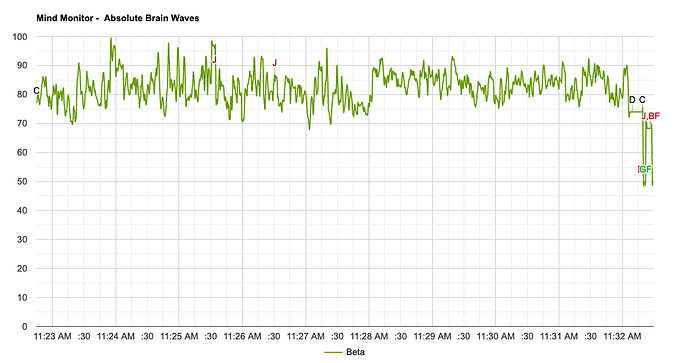 Notice that at exactly 11.28, the graph kicks up a bit, the range contracts a bit, and stays higher and more contracted for the duration.
Then we have Gamma: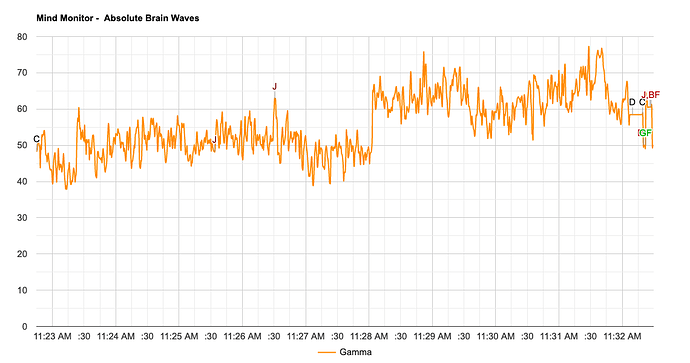 An even more obvious jump in intensity of Gamma waves at exactly the time that the M1 was turned on.
This is just my first run at this, so I won't draw any conclusions yet

I'm going to continue posting, future results of this type of experiment, while changing the intensity, program, location of coils…
I'm also very curious if what I'm doing is measuring the actual change in brainwave activity caused by the M1, or simply measuring the direct interference that the M1 is causing on the EEG. I have no idea how EEG technology works. I'm wondering if anyone knows anything about that. Obviously, there would be no use in running this type of experiment if all I'm seeing is how the electromagnetic field of the M1 is interfering with the EEG monitor.